PLUS-UP Program Pays; Ohio Meetings Aug. 22 and 23
The Phosphorus Load-Reduction Stimulus (PLUS-UP) Program is paying 10 growers this summer for reducing dissolved reactive phosphorus (DRP) loads in the Western Lake Erie Basin on 104 fields covering more than 5,300 acres. Payments average $9.12 per acre.
The program, which emphasizes the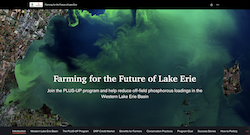 role of no-till and cover crops in reducing the off-farm movement of DRP into surface waters, is detailed in this
interactive story map
.
CTIC and The Andersons will host a 4Rs Nutrient Stewardship meeting in Maumee, Ohio, on August 23. A PLUS-UP stakeholder workshop will be held the following day in Toledo, Ohio. Watch
this link
for details.
With a grant from the U.S. Environmental Protection Agency, CTIC and our partners at Heidelberg University's National Center for Water Quality Research, St. Mary's University of Minnesota, and the Bayer Carbon Program developed a credit-based system to raise and disburse stimulus funds that help farmers cover the cost and management of practices that reduce phosphorus loads. The Bayer Carbon Program underwrote the DRP credits.
"Our goal with the PLUS-UP pilot project has been to develop an efficient, effective program," says project manager Hans Kok. "That's why we focused on DRP, which is completely available to algae (and to crops, making its loss from farms a big economic blow as well as an environmental one).
"Our partners at Heidelberg University have used data from participating farmers to model the actual amounts of DRP they are keeping out of the system, and each farmer's payments reflect their specific reductions," he notes.