SARE/ASTA/CTIC Cover Crop Surveys
Cover crops offer a wide range of benefits to farmers, from erosion control to soil building to capturing nutrients and holding them in the root zone over the winter. As interest in cover crops continues to grow, it's important to understand the trends, opportunities and challenges surrounding these important tools. Insight from farmers who use cover crops—or from those who haven't yet made the move—is vital for fellow farmers, as well as for crop advisors, conservation specialists and policymakers.
2022-2023 Cover Crop Survey
Click here
to open the report on insights from 795 farmers representing 49 states, including commodity crop, horticulture and livestock producers. The 2022-2023 survey introduced new questions on integrating livestock into cover crop systems, as well as growing cover crops for seed and participating in soil carbon programs.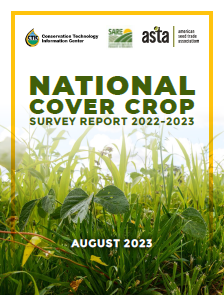 Findings in the seventh National Cover Crop Survey from CTIC, USDA-NIFA's Sustainable Agriculture Research and Education (SARE) program and the American Seed Trade Association (ASTA) yielded new perspectives on planting green and challenged commonly held notions linking land ownership to cover crop adoption. In fact, slightly more cover crop users than non-users reported renting all of their farmland (14% of users vs. 10% of non-users), and non-users were just as likely as cover crop users to own 100% of their farm ground.
Read the news release on the report,
here.
Watch this space for a recording of the press conference launching the 2022-2023 National Cover Crop Survey Report.
2019-2020 Cover Crop Survey
Click here
to read the insight from nearly 1,200 commodity and horticultural crop farmers from across the country on why they do—or don't—use cover crops. Among the highlights of this year's survey results include data on the performance of cover crops during the extremely wet 2019 planting season, including effects on planting date and prevent plant claims, as well as data on the crop insurance programs favored by cover crop users.
The sixth survey from CTIC, USDA's Sustainable Agriculture Research and Education (SARE) program and the American Seed Trade Association (ASTA), is the first to go into detail on "planting green," a practice employed by 52% of the respondents. Among farmers who planted green, 71% reported better weed control and 68% said soil moisture management improved. And despite the record-setting wet spring, yields after cover crops increased 5% in soybeans, 2% in corn and 2.6% in spring wheat.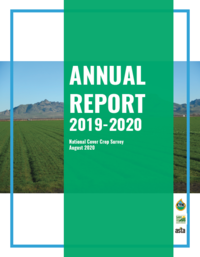 View the August 19th, 2020 Press Conference launching this year's report.
2016-2017 Cover Crop Survey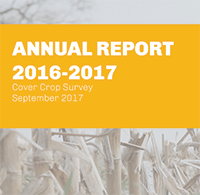 Click here to view the full report of the fifth annual cover crop survey. A big thank you to the USDA's Sustainable Agriculture Research and Education program (SARE) and the American Seed Trade Association (ASTA), with help from Penton Media through their Corn and Soybean Digest publication. For results from previous years, please see below.
The fifth annual cover crop survey by the Sustainable Agriculture Research and Education (SARE) program and the Conservation Technology Information Center (CTIC) draws on the insight of 2,102 farmers—88 percent of whom reported using cover crops and 12 percent who identified themselves as non-users—from across the U.S. Cereal rye remained the top choice of farmers for cover cropping, followed by oats and radish. Sixty-five percent of the cover crop users reported planting mixes in 2016.
2015-2016 Cover Crop Survey
Insight from 2,020 farmers from across the country found that the planted acreage of cover crops continued its steady rise - reaching an average of 298 acres per farm in 2015 and projected to grow to a mean of 339 acres in 2016. Those figures are more than double the acreage survey participants said they planted in 2011.
After cover crops, corn yields rose an average 3.4 bushels per acre, or 1.9 percent, after cover crops, and soybean yields increased 1.5 bushels per acre, or 2.8 percent. Analysis of the survey data revealed that yield increases rose to 8.3 bushels per acre of corn after cover crops had been used for more than four years on a field. In soybeans, the average yield gain increased from 0.1 bushel per acre after a single year in cover crops to 2.4 bushels after four years of cover crops.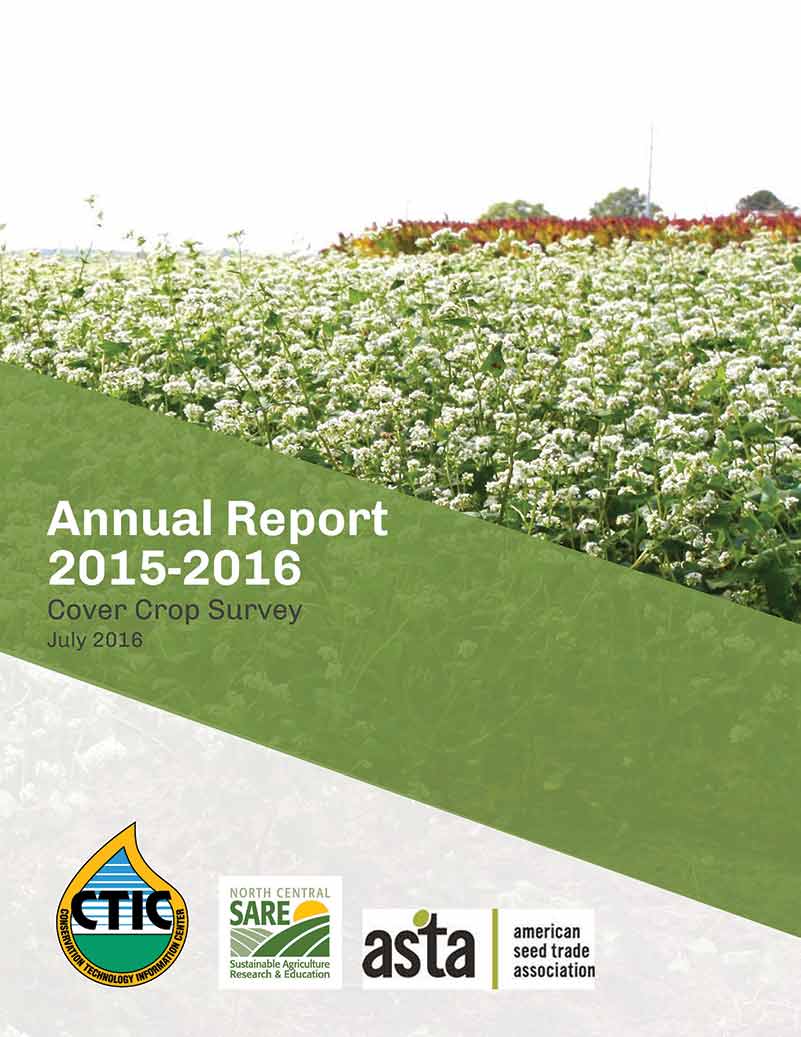 2014-2015 Cover Crop Survey
A survey of more than 1,200 farmers across the country revealed that cover crops boosted corn yields last year by a mean of 3.66 bushels per acre (2.1%) and increased soybeans by an average of 2.19 bushels per acre (4.2%)—the third year in a row a yield increase following cover crops was recorded by the Conservation Technology Information Center (CTIC) Cover Crop Survey. Read the full report.
2013-2014 Cover Crop Survey
Sustainable Agriculture Resaerch and Education (SARE) program and CTIC conducted a national survey of farmers to learn more about their use of cover crops. More than 1,900 farmers completed the survey, which was a follow-up to a smaller survey in 2012-2013 (see below). Results show a yield boost from the use of cover crops in corn and soybeans, data on the costs of seed and establishment, the challenges and benefits farmers expect from cover crops and insight into how farmers learn to manage cover crops. Read the full report. See the news release for highlights.
Results from the 2013 SARE/CTIC Cover Crop Survey were cited by USDA NRCS Chief Jason Weller in testimony on Capitol Hill. Our survey was also referenced in a New York Times Article - "Cover Crops, a Farming Revolution with Deep Roots in the Past."
2012-2013 Cover Crop Survey
Sustainable Agriculture Research and Education (SARE) program and CTIC conducted the first cover crop user survey. More than 750 farmers from across the U.S. completed the survey, representing hundreds of thousands of acres of cover crops and drawing on cover cropping experience that goes back as far as 1948. The 2012 crop year was a challenging one in which to study yield impacts – much of the U.S. was impacted by drought, which pushed national per-acre corn production estimates down by 43.7 bushels, or 26.3%, and reduced soybean production by 8.1%, or 4.0 bushels per acre, based on early-season predictions from the U.S. Department of Agriculture Economic Research Service. However, even in those conditions – or perhaps because of them – the survey revealed a positive impact of cover crops on yield. The results of the 2012-2013 survey can be found here.
Let's Do the Math on Cover Crops
Help CTIC pencil out the economic and environmental benefits of cover crops through the "Economic, Agronomic and Environmental Benefits of Cover Crops" project. Below, sign up for our cover crops mailing list or let us know that you are interested in working with us.
For more information on the project, check out our project webpage.
Helping People, Land and Water: The Cover Crop Story
What do farms, water quality and the Great Lakes have in common? They all are helped by cover crops. Through the Great Lakes Cover Crop Initiative, CTIC and partners planted 36,970 acres of cover crops, providing many benefits to farmers in the Great Lakes region. Hear from three farmers in the Great Lakes basin, a researcher on Lake Erie and a Michigan State University Extension educator as they present "The Cover Crop Story."
Cover Crops - An Essential Tool for Sustainable Cropping Sys
The use of cover crops is steadily increasing throughout the United States. Many no-till farmers consider cover crops to be the next step in conservation agriculture.
Leaving the soil undisturbed and keeping something growing as many days as possible restores the natural cycles of the soils. Residues and roots create more organic matter in the soils. Increased organic matter serves as a food source to various soil organisms and increases the biological activity. Higher biological activity increases nutrient cycling and availability and also reduces nutrient loss due to run off. With all this activity, soil structure and tilth are improved, increasing infiltration rates and reducing compaction.
Implementation of cover crops can have the following beneficial effects:
Increase soil organic matter
Increase infiltration of water into the soil
Decrease runoff to nearby waterways
Decrease soil erosion and transport to nearby waterways
Conserve soil moisture
Reduce soil compaction
Increase nutrient availability to the crop
Reduce nitrate leaching to groundwater
Supply nitrogen to following crop
Suppress weeds, potential reducing the need for herbicides
Suppress soil-born diseases and nematodes, potentially reducing the need for insecticides
Attract beneficial insects such as pollinators
Increase yields of the following crop
Improve soil quality
Cropping Decisions Survey Summary with Howard G Buffet Foundation and CTIC.