Conservation in Action NEWS October 2019
October 2019
Welcome to Conservation in Action, CTIC's new e-newsletter. We'll share news about the Conservation Technology Information Center as well as stories on how our members and partners are helping farmers put conservation systems into practice.
If you've got a story you'd like to share, contact us! In the meantime, we hope you enjoy the newsletter.
A NOTE FROM OUR EXECUTIVE DIRECTOR
Hello everyone, this year has been exciting for CTIC. Over the past six months, I've had the opportunity to learn about the history of our organization through the eyes of many of you. It's been a pleasure to hear the fond stories around the Conservation in Action Tour and the past projects that CTIC has lead and participated in. I'm honored and humbled to lead an organization with such a rich history of working in conservation agriculture.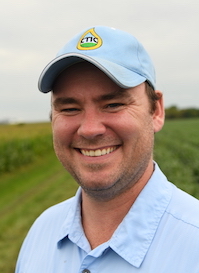 Looking to the future, CTIC is primed to play a critical role in the delivery of conservation data and information. Beginning with OpTIS and DNDC data, CTIC is working to create new ways to visualize and interpret these critical data. These efforts are being coordinated with the help of The Nature Conservancy and DAGAN Incorporated. It is our intention to enable these data to reach as many stakeholders in agricultural as possible – a tall task, but one that CTIC is equipped and ready to tackle.
In addition, CTIC is also embracing Conservation In Action as our official brand. We all must remember that conservation happens on the ground, starting with farmers, ranchers, and the natural resources professionals that work every day to steward our resources for the benefit of society, soil health, fish and game, and more broadly ecosystem function. We're excited about the partnerships that we are forming and the work that others are doing to promote Conservation In Action. We believe it is our role to tell the story of these efforts.
Enjoy the day,
Mike
OpTIS DATA NOW AVAILABLE FOR THE ENTIRE CORN BELT
Cover crop use following corn and soybeans in the Corn Belt doubled between 2006 and 2018, climbing to 4 million acres, according to an analysis of data from the Operational Tillage Information System (OpTIS).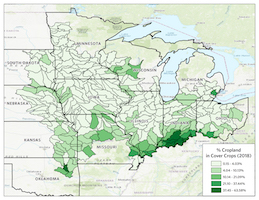 OpTIS uses publicly available satellite imagery and a proprietary algorithm developed by Applied GeoSolutions (AGS) to analyze tillage practices and ground cover. The algorithm was ground-truthed by visits to nearly 1,500 fields in 10 states in 2017 and 2018.
Data covering 645 counties in the Corn Belt between 2006 and 2018 are available free on the CTIC website. To protect farmer privacy, results are reported on the HUC 8 watershed or Crop Reporting District level.
The portal on CTIC's website also offers analysis of OpTIS data through the Denitrification-Decomposition (DNDC) model, which quantifies the effects of the observed conservation practices on changes in soil organic carbon and emissions of nitrous oxide, a powerful greenhouse gas.
CONSERVATION IN ACTION TOUR GOES TO THE LEADING EDGE
About 150 people attended CTIC's 12th annual Conservation in Action Tour, enjoying a close-up look at conservation systems in real-world situations and a chance to talk with the farmers, crop consultants, agribusiness representatives and conservation professionals who are making them work every day.
This year's tour, held in central Iowa on August 20 and 21, centered around the theme "Conservation at the Leading Edge." Participants explored edge-of-field practices such as wood chip bioreactors, saturated buffers and constructed waterways. They also had a chance to meet USDA NRCS Chief Matt Lohr, Iowa Secretary of Agriculture Mike Naig and USDA NRCS Iowa State Conservationist Kurt Simon, who all addressed the group.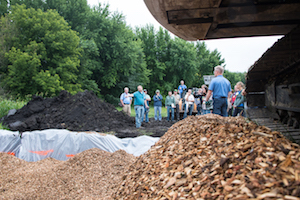 "I'd heard it was a great tour and it really delivered," said Clare Lindahl, CEO of the Soil and Water Conservation Society, who attended her first CTIC tour this year. "I think that the stops showed a lot of variety about the conservation work being done, and it really lived up to the name 'Conservation in Action.' One of our stops, we actually saw a bioreactor—an edge of field conservation practice—going in. So that was definitely the definition of 'action.'
"Another great benefit of being part of this tour was that the networking was as great as the tour itself," she added. "I got to meet so many different people and it's a great array and a mix of public and private partnerships."
Plans are underway for the 2020 Conservation in Action Tour, so stay tuned!
For more about the 2019 Conservation in Action Tour,
click here
.
PED TALKS SERIES DIGS INTO SOIL HEALTH
CTIC has launched a series of 15-minute PED Talks on soil health, engaging viewers on topics ranging from how we define it to how the movement to improve soil health will literally change the world. (For folks who aren't soil scientists, a ped is an aggregate of soil particles.)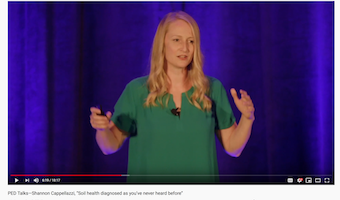 CTIC is partnering on PED Talks with the USDA Natural Resources Conservation Service (NRCS), Soil and Water Conservation Society (SWCS), Soil Health Institute (SHI), Soil Health Partnership (SHP) and Soil Science Society of America (SSSA).
Three of the talks were recorded at this year's Soil and Water Conservation Society annual meeting in Pittsburg, Pennsylvania, and one was recorded at SHI's annual meeting in Sacramento, California. NRCS Chief Matt Lohr recorded an introductory video for the series, which is available on a special PED Talks YouTube channel.
The inaugural PED Talks include:
Shannon Cappellazzi of the Soil Health Institute on "Soil Health Diagnosed As You've Never Heard Before"
Alex Fiock of the Soil Health Partnership on "Focusing On Soil Health from the Ground Up"
Barry Fisher of the USDA NRCS in Indiana and Betsy Bower of Ceres Solutions Cooperative presenting "Partnering to Enhance Soil Health" and
Jane Hardisty, former Indiana State Conservationist for USDA NRCS on "You Are Changing the World!"
"Soil health is essential to keeping our agricultural lands productive and profitable, and we're thrilled to be partnering with such great organizations to help get the word out," said CTIC Executive Director Mike Komp. "PED Talks will explain the benefits of soil health using science-centered messaging featuring the next generation of scientists and farmer-innovators."
BEE INTEGRATED: HONEY BEES UTILIZE PLANTED FORAGE
A DNA analysis of pollen collected by bees in the Honey Bee Health Coalition's Bee Integrated program indicates that bees in the central North Dakota study utilized planted bee habitat more than crop fields, ditches and other sources of forage. That underscores the importance of creating forage sites for bees.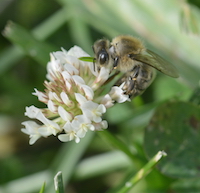 "In the core zone of beekeeping in central North Dakota, we're seeing a large amount of forage land being lost," said Clint Otto of the U.S. Geological Survey, who led the pollen collection and identification project. "It really brings home how important it is to work with other stakeholders to engineer habitat for bees."
The Bee Integrated program pairs beekeepers and farmers to demonstrate a suite of best practices that can be employed on farmland and in bee yards to support honey bee health.
TRIBES MEET IN TOPEKA FOR WETLAND TRAINING
Environmental agency representatives from tribal nations in Kansas, Missouri, Iowa and Nebraska met in Kansas in September for hands-on training in the protocols of the National Wetlands Condition Assessment (NWCA), part of the U.S. EPA's National Aquatic Resource Survey (NARS).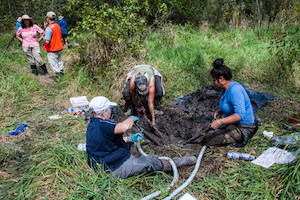 Participants can put their skills to work in 2021, when data gathering begins on the latest phase of NWCA.
Eliodora Chamberlain of EPA Region 7 organized the four-day workshop with help from CTIC. Classroom and fieldwork exercises were led by Gregg Serenbetz of EPA, Lenore Vasilas of USDA-NRCS and Frank Norman of Norman Ecological Consulting.
Ron Brave of the Lakota Nation kicked off the fieldwork component of the program with a prayer and talk at the medicine wheel at Haskell Indian Nations College in Lawrence, Kansas. Click here for
a brief video of his comments on wamakaskan
—"living movement."
THANK YOU!
Thanks for reading Conservation in Action News. Visit CTIC's website for updates on these and other programs. If your organization or company is putting conservation into action, let us know: we are looking for stories to share.