CTIC Hosts Ag Consultants Training at Iowa Agribusiness Showcase
CTIC, with support from the U.S. Environmental Protection Agency, hosted a half-day training for Iowa ag consultants at the Iowa Agribusiness Showcase and Conference in Des Moines on February 13, 2019.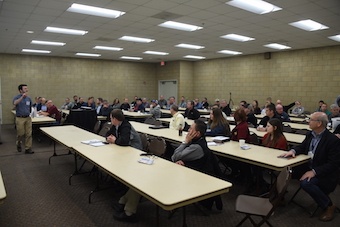 The training drew more than 60 attendees, and covered a wide range of conservation systems geared toward Iowa farms.
"This ag consultant training and others like it that we are running around the country are designed to help ag consultants guide their farmers toward practices that can help them achieve economic and environmental goals," says project manager Mike Smith of CTIC. "We don't expect every ag consultant to become an expert in developing bioreactors or saturated buffers, but we want them to be able to point their clients to the technical experts and funding sources that can help them implement these practices.
"That helps consultants become even more valuable to the farmers they serve, and could also help them find ways to work conservation systems into their own business plans," he adds.
Speakers at the Des Moines training included:
Iowa Secretary of Agriculture Mike Naig, who welcomed the group
Jason Gomes, CCA, of North Iowa Agronomy Partners, exploring the role of crop advisers in conservation planning
Greg Wandrey of The Nature Conservancy, outlining training resources offered by the 4R Plus program
Robert Mier, resource conservationist for the USDA Natural Resources Conservation Service, detailing conservation incentive programs in Iowa
Keegan Kult of the Ag Drainage Management Coalition, describing conservation practices and programs for tile drained landscapes
Tim Recker of the Iowa Land Improvement Contractors Association, detailing constructed practices for sloping landscapes.
Videos of each of the presentations are available on
www.ctic.org
.
Click here for a look
.