2013 Tour Wrap-Up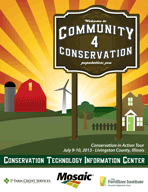 The 2013 tour had record attendance! On July 10, over 270 people from 20 states visited the Indian Creek Watershed in Livingston County, Ill. to learn about soil health, nutrient management and drainage water management. Celebrating the theme of Community 4 Conservation, tour participants heard from speakers with experience in several aspects of conservation, such as building soil health, efficiently managing nutrients and controlling the water that drains from fields.
Tour high points:
Aerial seeding demo

Soil Pit Demonstration

Slake test

Equipment on display

Tiling demonstration
What you had to say about the tour:
The information from the various presenters was relevant and impressive, and I particularly appreciated the perspectives shared by farmers in the watershed about what benefits they saw from the practices being presented. It was clear that they cared about the Vermilion River being kept clean for drinking water and wanted to be good environmental stewards.
~Marcia Willhite, chief of the Illinois Environmental Protection Agency's Bureau of Water
"The most valuable part of the tour was the wide variety of speakers and topics and the emphasis on science and new and future technology."
"Keep doing what you're doing – excellent day."
As part of our tour preview, we showcased the farms highlighted during the tour. Check out the video below!
2013 TOUR SPONSORS
Thank you to all sponsors of the 2013 Conservation in Action Tour. We appreciate your support and value your contributions.
Tour Leader:

---

---

---

Social Sponsor:

---

---

---

Dinner Sponsor:

---

---

---


Lunch Sponsor:


Lunch co-sponsors: Jenner Sales Corp. and Illinois Pork Producers Association

---

---

---

Tour Stop Sponsors:

---

---

---

Past Tour Host Travel Sponsor:

---

---

---

Notebook Sponsor:

---

---

---

Bus Sponsors:






---

---

---

Participant Packets:

---

---

---

ZimmComm Digital Coverage Sponsor:

---

---

---

Breakfast Box:

---

---

---

T-shirts:

---

---

---

CCA Mailing:

---

---

General Support: