CIA TOUR 4 STOPS
2021 VIRTUAL CONSERVATION IN ACTION TOUR: 4 ONLINE "STOPS"!
The 2021 Conservation in Action Tour will once again be virtual—this time, a four-part online series that will be part of the American Society of Agronomy's Sustainable Agronomy Conference on four Tuesdays in July and August. Each of the four tour episodes will include an on-farm video and a live panel discussion.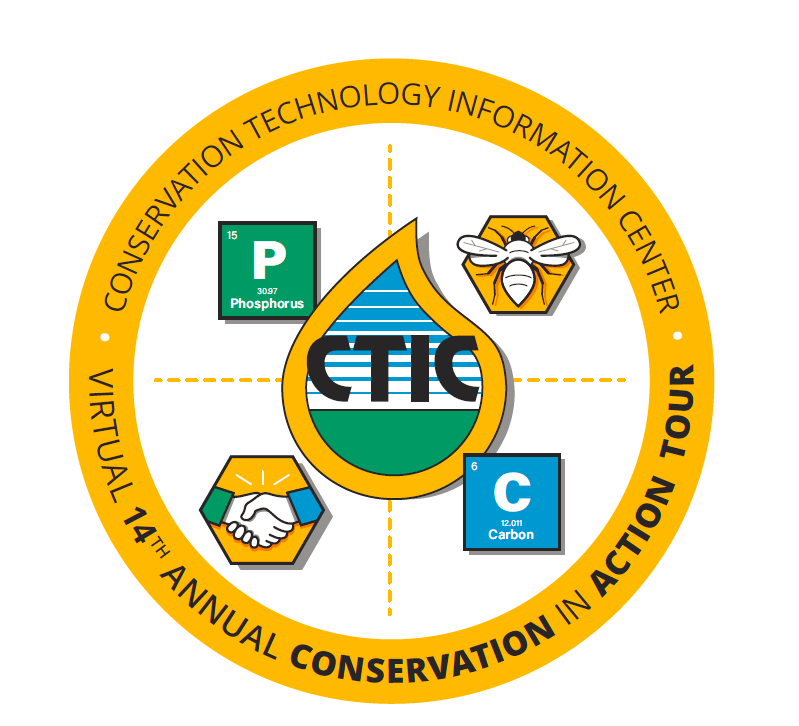 Tour dates and "stops" will include:
Carbon markets, July 20
Phosphorus management, August 3
Pollinator habitat, August 17
Connecting for conservation, August 24.
For the past 14 years, the Conservation in Action Tour has been a summer highlight for farmers, crop consultants, agribusiness leaders, conservation professionals, policymakers, researchers and others. CTIC Executive Director Mike Komp acknowledges that it was tough to go to a virtual format for a second year, but uncertainties early in 2021 made an online format a safer bet from a planning perspective.
"It would have been heartbreaking to start setting up an in-person tour and then having to cancel it because of lockdowns or travel restrictions," Komp says.
"We're looking at the bright side and using the virtual capabilities to make lemonade out of lemons," he adds. "With the opportunity to connect our tour once again to the American Society of Agronomy's Sustainable Agronomy Conference, we've got a great platform for bringing Certified Crop Advisers into our circle, as well as a top-quality tech environment. We can bring sources from all over the country into the conversation because of the virtual format. And we are working with our Social Sponsor, John Deere, on a way to capture some of our Conservation in Action Tour's traditional camaraderie even though we're not in the field together."
The virtual format allows for live content during the Sustainable Agronomy Conference, followed by online access to the videos, recordings of the panel discussions, and bonus content on the ASA and CTIC websites after the conference.
Komp points out that CTIC has enjoyed the strong support of Conservation in Action Tour sponsors despite the format change. So far, those sponsors include:
Diamond level:
Syngenta
The Mosaic Company
Bayer CropScience
Diamond/Social:
John Deere
Platinum:
Case IH
Gold:
J.R. Simplot
Silver:
The Nature Conservancy
Registration is free for the 2021 Virtual Conservation in Action Tour as well as the ASA Sustainable Agronomy Conference. Click
here
for more details and a link to the free registration form.